Is Your Catholic Marriage in a Rough Spot?
Are you seeking Catholic marriage counseling that includes your beliefs?
Is it hard to communicate your thoughts or feelings with your spouse or is it they don't understand you?
Are there times when you feel cheated or betrayed by your spouse?
Do you desire to forgive but have much fear, shame, guilt, anger, or hurt blocking you from it?
Do you struggle with God's forgiveness over choices you have made in your relationship?
Perhaps you have difficulty having quality time together and when together, it's hectic or you get into arguments. For example, one or both of you are very busy with work and you miss your time together. Maybe you have differences on how you raise your children. You are not alone. Many other Catholic couples are struggling in their marriages trying to "make it" only to find they are angry, hurt, frustrated with each other.
They may have disagreements on parenting, arguing over money, over a spouse working long hours, lack of intimacy, lack of or rather poor communication, history of or recent affair, or many other difficulties in their relationship. They come to sort things out in a private, confidential environment.  Many are seeking counseling to overcome past and current conflicts, dysfunctional relationship patterns, trying to better relate to one another, better communicate, and to continue to grow in their commitment to marriage.
We have witnessed through the counseling process many promising and wonderful results with our couples who are willing to make the effort, the time, and the investment in their marriages. We have seen much success in our couples of faith commit to restoring their love toward

God and one another. It is our goal, desire and passion to see Catholic marriages restored to the way God has planned for them and for you to succeed in your relationship for a lifetime of growing-old-together with peace, faith, hope, and love.
You may wonder if counseling is helpful, if it's gonna cost a lot for you, or if you will get the results you want. These are great questions. Let's take a look at each one.
Is Catholic marriage counseling helpful?
Counseling is about relationship. It's about connecting with each other through a trained, compassionate, empathetic, caring and objective third party — namely a professional counselor. Throughout the process, you are able to share your story, your hurts, your struggles, recognize self-responsibility, learn effective ways to communicate in such a way you are heard and understood not only by the counselor but also by your spouse. You will have someone who will walk with you together through the intense discussions, through

painful past events that are affecting you now and need to be addressed in counseling, to help set goals and steps to help you achieve them.
Imagine the positive changes together you can make. This process may and will be emotionally uncomfortable at times and outright painful. Consider for example, when you were a child with a skinned knee and needed to have it washed off or cleansed with hydrogen peroxide or another medical cleaner. It hurts. But then some salve was put on it and maybe a band-aid and you were off playing again. Counseling is in a way much like that process as we explore, extract and clear the emotional hurt that has been there in you in your marriage for some time.
What will it cost us?
Many times when clients consider Catholic marriage counseling they realize it's an expense they didn't plan for. Most people don't plan in their budgets or expenses to go to counseling.  However, most don't plan to be in need of counseling either. When considering the cost, consider what it is costing you now for not attempting to "save your marriage".  How many arguments do you need to go through? How many visits to the doctor for health issues that may intensify due to the stress in your relationship do you need to go to? If the problems persist, what's next?
Going through separation, living in two different places, seeking a lawyer, dividing up your property, custody of children, and the list of expenses goes up and up. Many couples may go on a retreat, take a long vacation, go to sporting events, sit down with the priest, increase the times they go to mass, pray, talk with friends, and hope things will get worked out. Some of these things are helpful. Consider counseling as an investment in your marriage, in your future, in your well-being, in your mental health care, and in the good development of your children. Costs are financial, they are time-consuming, they are hard work, they are facing the challenges, the hard times, the fun times, and the exciting times together. Remember: you and your marriage are worth it.
Will we get the results we want?
Having purpose and meaning in the counseling sessions is vital to how you will apply what you have learned and gained in your experiences. The results will depend on your connection with your counselor, your willingness to develop and pursue your "we", "us" goals together, following through with certain exercises or homework you get from the counselor, practicing your faith, and practicing on a daily basis what you have learned in counseling. Taking the time and effort to make your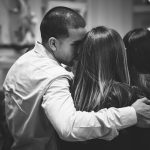 marriage work is well worth your investment. As our clients go through counseling willing to address distress and difficulties, we witness tremendous change. Further, we see more hope, a sense of peace, and well-being along with happiness for those who have made the choice toward health and healing in their marriages.
Reclaim the meaning and purpose to the vow you made before God, friends, and family to love, honor and cherish each other. If you would like to speak to a counselor who shares your beliefs please feel free to look up Anne Marie Sheffer or call her at 520-270-1176 or Michelle Rucker at 520-762-6680 for more information and to set up a time to meet.
Feel free to call the office at 520-292-9750 or visit our contact page.